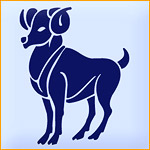 Denoted by Ram, Aries is the sun sign for those born between 21st March and 20th April. This sign called 'Mesha' in Hindi, is the first sign beginning with new zodiacal year. Aries is ruled by the planet Mars and this gives the sign its adventurous spirit. The young ram is adventurous, ambitious, impulsive, enthusiastic and full of energy
About Aries
People born under this sign are the born leaders, with genuine concern for those they command. They are brave, fearless and highly dominating. In personal relationships Arians are adventurous, impulsive, full of energy, direct and candid, and make enthusiastic lovers. Mentally Arians are intellectual.
Aries are self conceited both negatively and positively. Their immense energy makes them aggressive and restless, argumentative occasionally, headstrong, quick tempered and easily offended. Those with Aries on the ascendant, are quick to anger but also ready to forgive. On feeling affronted they often hold grudges. They act and speak quickly.
Health
Aries rules the head, the cerebral hemispheres of the brain, the upper jaw, the eyes, and the face. Under planetary afflictions these people are subject to brain fever, dizziness, nosebleed, neuralgia, inflammation of the cerebral hemispheres, and diseases of the brain and face. They frequently suffer from a rush of blood to the head.
Career
They usually make good athletes and climbers, soldiers, sailors, explorers, and doctors.
Ideal Partner
Arians need support and encouragement, so their ideal partner for them are the ones of the Earth signs, either Taurus or Virgo.